Donald C. Jackman: THREE BERNARDS SENT SOUTH TO GOVERN
State College, Penna., 2015. Pp. x, 239. US$36. Pbk.
ISBN: 978-1-936466-11-5
A presentation of the fundamental constitution that preceded dynastic feudalism, with source materials pertaining especially to ninth-century France; a consideration of the methods best suited for achieving significant insight, in particular in the reconstruction of aristocratic genealogical relationships. This study finds that the essential office of count invariably was inherited, ideally according to proximity and primogeniture, with the king and the aristocracy acting as a corporation to admit specific and well-understood variations to basic hereditary principles in a sophisticated juristic environment.
Abstract in Medioevo Latino 40 (2019) 808, online at Mirabile, http://www.mirabileweb.it/mel/-three-bernards-sent-south-to-govern/735039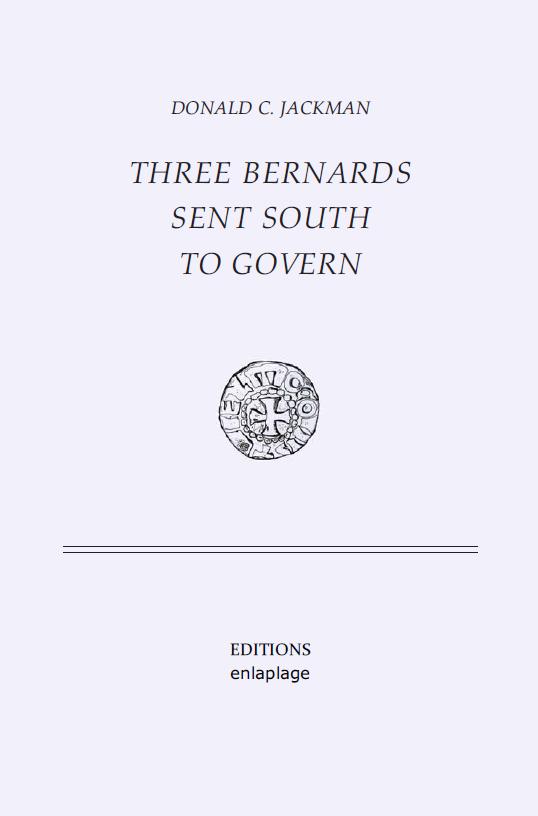 Praise for author's previous books –
Criticism and Critique: "The book has been carefully produced and will be required reading for specialists in post-Carolingian prosopography for the empire as well as for what later became France" [Speculum 76, 2001, 180].
The Konradiner: "Wer sich in Zukunft mit dem 10. Jahrhundert beschäftigt, muss die vorliegende Arbeit kennen und für seine Untersuchungen nutzbringend anwenden" [Schweizerische Zeitschrift für Geschichte 43, 1993, 620].
info/at/enlaplage/dot/com